Responding to the Ukrainian Refugee Plight: The EU and US Perspectives
Overview
By Joshua Peng
Overview
The Russian invasion of Ukraine in February 2022 has led to one of the largest forced displacements since the Second World War. UNHCR estimates that more than 7.8 million Ukrainian refugees have fled to the neighboring countries and over 6.5 million people are internally displaced. The European Union (EU) and U.S. have responded with an unprecedented solidarity by providing emergency humanitarian aid and warm hospitality to the Ukrainian refugees. But as the war drags on, it raises the difficult question of how to sustain the goodwill and long-term support for the refugees in the months ahead.
On February 1, 2023, the Wilson Center's Refugee and Forced Displacement Initiative (RAFDI) hosted a public event titled, "Responding to the Ukrainian Refugee Plight: The EU and US Perspectives," to discuss challenges in responding to the humanitarian situation of this scale, roles of various stakeholders in addressing urgent and long-term needs of the displaced people, and lessons learned from a united response to Europe's forced displacement. Speakers included Representative Gerald Connolly of Virginia's 11th Congressional District; Dr. Michael Koehler, Acting-Director General for European Civil Protection and Humanitarian Aid Operations of the European Commission; and Ambassador Julieta Valls Noyes, Assistant Secretary of State for the Bureau of Population, Refugees and Migration of the U.S. Department of State. The panel was moderated by Robin Quinville, Director of the Wilson Center's Global Europe Program; and hosted by John Thon Majok, Director of the Wilson Center's Refugee and Forced Displacement Initiative.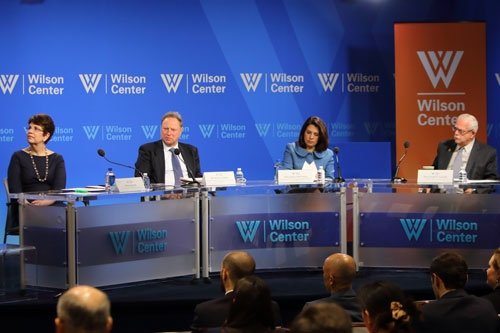 Unprecedented Solidarity
At the onset of the Russian invasion, much of the public discourse outside of Ukraine was about the degree to which the US and the West would stand behind Ukraine in defending its sovereignty. As the conflict dragged on, that discourse additionally questioned how the West would respond to the plight of Ukrainian refugees. The West answered those questions by demonstrating an unprecedented level of solidarity through coordinated efforts between the US and the EU and their allies. Ambassador Noyes notedRussian President Vladimir Putin "was counting on Europe and the United States to be divided and not to stand up to him," as his actions led to egregious human rights abuses and high levels of forced displacement. However, "he found himself confronting a united Europe."
Representative Connolly placed the international response in perspective: it is one of the most fluid refugee situations I can ever remember." In terms of the US response, "[it] is probably the largest single response to a single situation in another country not involving us directly in American history. It's an extraordinary response and has made an extraordinary difference in Ukraine." Ambassador Noyes added: "It is a historically unprecedented level of support…for one country in such a short period, and we're doing heroic work. Our partners are doing heroic work under life-threatening circumstances."
Countering Russia's illegal invasion requires a high level of support not only from international partners, but from the international public. In the US, bipartisan support for such expansive humanitarian aid is a preliminary requirement. Representative Connolly's assessment of the U.S. Congress attitude towards Ukraine was encouraging, as he described a visit to the Polish border, an area of high traffic for Ukrainian refugees: "I was with a bipartisan delegation andevery single member of that delegation – Republican or Democrat – had the same reaction and came back with the same resolve: that we will not let [Putin] succeed, we will help these people." These leaders recognized that the Ukrainian people "aren't nameless refugees. These are real people who are experiencing extraordinary pain and suffering in the 21st century in Europe."
Lessons in Complementarity
Coordination between the US and EU is necessary but insufficient in addressing the refugee crisis.Dr. Koehler pointed out"The challenge will be to sustain this kind of effort – to maintain this once we go into the second and the third and the fourth year of the humanitarian crisis in Ukraine." A sustainable response involves complementarity between US-EU and Ukrainian relief efforts.
Dr. Koehler provided valuable insight, explaining, "In a wayhumanitarian aid deals with state failure, and this is absolutely not the case in Ukraine. I think we are all amazed at how well the state is functioning… [And] also how big the ambition of the Ukrainian government is to take care of the needs of their own population." The US and EU aid should enhance existing Ukrainian relief efforts.
The West must also provide relief to countries hosting the bulk of Ukrainian refugees. The Polish response involved "placing huge numbers of refugees within 24 or 48 hours. People were not stuck in shelters and most of them were going to private homes," said Representative Connolly. However, such a degree of compassion does not negate how taxing such a response can be. Ambassador Noyes pointed out that the international response must "empower refugees to be self-reliant… [while] bolstering and stabilizing the very generous host countries that have been welcoming them."
Host country fatigue is a reality. Ambassador Noyes remarked that international partners can slow the rise of anti-refugee sentiment in host communities by "[focusing] on the true costs of Putin's war and the costs that are being borne by the people of Ukraine." Dr. Koehler suggested that mobilizing logistics and combining "state finances assistance with private sector donations" can help share the burden of humanitarian aid. The high levels of donations and support from "individual private citizens and private organizations, and new donors and new approaches," as identified by Ambassador Noyes, "can be game-changers in the humanitarian funding space," so long as they are supported by complementary state and international efforts.
 Key Takeaways
While there is no quick solution for Ukraine's recovery in the face of such aggressive action by Russia, the united response by EU and US and their allies provides a good model that can be replicated elsewhere. Ultimately, Ukraine's recovery and the resettlement of their people will be successful if its international partners continue to prioritize solidarity and complementarity in their efforts.
Beyond Ukraine and Europe,"that lesson of unity, and complementarity, and creativity, learning from each other, and working together is one that will serve us well into the future wherever humanitarian responses are needed," Ambassador Noyes emphasized.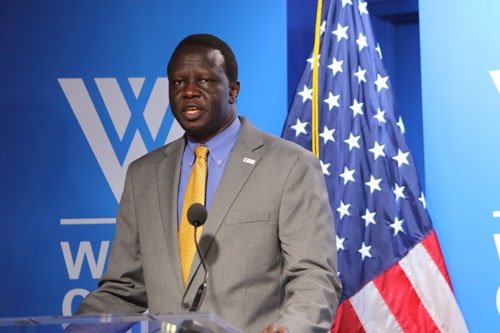 Selected Quotes
"Forced displacement is a defining issue of the 21st century. This reality has implications for how we talk about refugees every now and everywhere." John Thon Majok
"Despite the challenges of the initial response, EU countries and their allies responded with unprecedented solidarity… But lived experience shows that as the war drags on – as it is now – it prolongs the duration of exile and raises important questions such as: What should be done in the medium and long term to support refugee livelihoods beyond their basic needs?" John Thon Majok
"I am reminded that President Wilson was president during a time of war, and changing borders, and refugees, and displaced people, so it is all the more important that we are looking and examining how we can respond to today's challenges on that subject here at the Wilson Center." Robin Quinville
"We need to make sure that the coalition of support for that ongoing assistance both here in the United States and among our allies in the West remains strong and that solidarity remain constant and steadfast." Representative Gerry Connolly
"These aren't nameless refugees. These are real people who are experiencing extraordinary pain and suffering in the 21st century in Europe." Representative Gerry Connolly
"The challenge will be to sustain this kind of effort – to maintain this once we go into the second and the third and the fourth year of the humanitarian crisis in Ukraine." Dr. Michael Koehler
"How can we switch from an emergency response to sustained response while at the same time empowering the state of Ukraine to take care of its own citizens?" Dr. Michael Koehler
"I think the lessons learned mainly concern the area of how to mobilize logistics and how to combine…state finances assistance with private sector donations." Dr. Michael Koehler
"[W]e …have to find ways to help prevent host fatigue – we have to reduce the pressures on host communities and governments to avoid the risk of rising anti-refugee sentiment that has emerged in other protracted displacement crises. And the best way to do that is…to focus on the true costs of Putin's war and the costs that are being borne by the people of Ukraine." Ambassador Julieta Noyes
"So the lesson here is, while we can't get complacent, we also can't lose hope. Our resources are not infinite, but with creativity and innovation we can and we must multiply their effect." Ambassador Julieta Noyes
"That lesson of unity, and complementarity, and creativity, learning from each other, and working together is one that will serve us well into the future wherever humanitarian responses are needed." Ambassador Julieta Noyes