The Return of Medvedchuk
The man who failed to create "The Other Russia" in Ukraine now tries to establish "The Other Ukraine" in Russia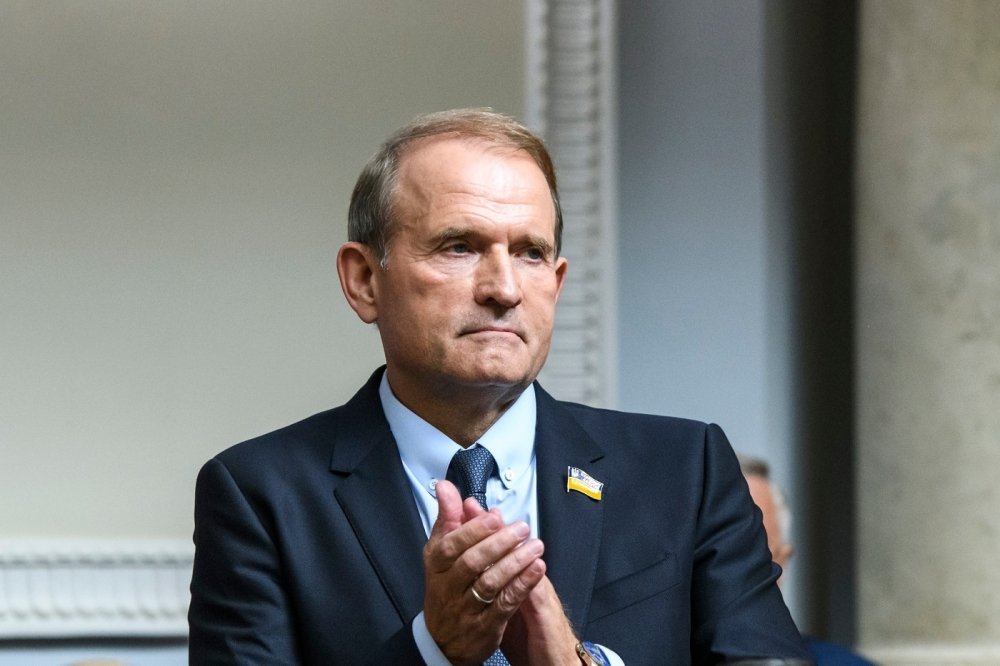 Ukrainian ex-MP Viktor Medvedchuk is staging a re-entry into public life.
Medvedchuk, who has family ties to Russian president Vladimir Putin and was traded to Russia in a prisoner exchange last September, has given a major TV interview for the first time since the exchange. Signaling a political reincarnation, he announced the launch of his new political project—a Ukrainian government in exile.
What we seem to have here is a mutually advantageous scheme: Putin, who refuses to recognize Ukraine's sovereignty, gets to participate in creating a fake Ukrainian government with which he can then construct fake fraternal Russian-Ukrainian relations, while Medvedchuk, the simulacrum's front man, gets a second chance at political life.
According to Ukrainian intelligence, Medvedchuk was involved in financing Russia's invasion of Ukraine: Russia funneled money through him with the aim of "buying" local Gauleiters, who would organize antigovernment movements within Ukraine to make it easier for Russian forces to seize cities. (In practice, these funds were simply stolen, and Russia's plan was never realized.)
As of February 24, 2022—the date Russian forces crossed into Ukrainian territory—Medvedchuk was under house arrest in Ukraine under suspicion of treason. Medvedchuk expected that once Kyiv fell (presumably in the three days that his Moscow patrons gave it), he would head the new puppet administration. After the plot failed, Russian secret forces tried to spirit Medvedchuk away to safety in the Russian puppet-state of Transnistria, but Ukrainian law enforcers thwarted this plan. By spring of 2022, he was behind bars. In September, Putin's protégé was exchanged for the Mariupol steelworks Azovstal defenders and delivered to Russia.
In the meantime, Ukraine banned Medvedchuk's party, the second-largest faction in the current parliamentary assembly. Some hard-core pro-Russian party members fled abroad, while others in the party were reduced to being a political precariat of Ukrainian politics.
Which brings us to Medvedchuk's recent interview with the Russian pro-Kremlin Izvestia newspaper.
In his first public appearance since last year's developments, he produced a narrative consistent with Russian propaganda to rationalize Russia's aggression against Ukraine. Ukraine had always been psychologically connected to Russia, he asserted, and it was the West that had set the two countries against each other. He also claimed that "Ukrainian warmongers" (presumably Zelensky's government) were seeking to impose their rules of the game on the entire world by working to build a powerful anti-Russian coalition and drawing all of Europe into the war.
Introducing "The Other Ukraine"
As a first testing of the waters by a politician attempting a return to the public arena, Medvedchuk's interview failed: Ukrainian media hardly noticed it, while Russian media responded with a severe backlash, aimed at his failure and loss of political influence in Ukraine. 
Medvedchuk then decided to try something else. A known fan of history and symbolic gestures, he chose a special date (February 12, the eighth anniversary of the signing of the Minsk-2 peace accord, which was meant to ease the war in the Donbas) and a special venue (the state-owned STV channel of Belarus, a country that adopted deliberate blindness with regard to the annexation of Crimea and has been seeking to position itself as a mediator in Ukraine-Russia relations) to make his second big appearance.
Medvedchuk was introduced on the broadcast as a leader of the pro-Russian Opposition Platform—for Life party (banned in Ukraine), an association meant to underscore his political continuity and legitimacy among the pro-Russian audiences. The ex-MP announced his return to the big game and the creation of a new political project, "The Other Ukraine," which, he said, would "demonopolize" President Zelensky's right to represent Ukraine at the international level.
Medvedchuk claimed that some 9 to 12 million Ukrainians do not support Ukraine's current course; that it was entirely logical to create a government in exile to represent their position; and that he should be treated as the official representative of this "alternative" Ukrainian voice.
This presentation was problematic for several reasons.
First, the name. "The Other Ukraine" recalls Eduard Limonov's "The Other Russia," a Nationalist Bolshevik anti-Putinist project. This echo of Limonov tarnishes what might otherwise be mistakenly viewed by some Russian elites as a legitimate project.
Second, most Ukrainians understand that today, they should be more united than ever. Medvedchuk's attempt to divide Ukrainians into "us" and "them" while trying to mobilize Russia-oriented Ukrainians (who amount to only 3 percent of the Ukrainian population) went over like a lead balloon in Ukraine.
Comprising a hodgepodge of political outsiders, some of them former journalists employed by Ukraine's propagandistic TV channels, and Medvedchuk, a Putin crony who has long become a pariah, "The Other Ukraine" is a project with a murky prospect. Moreover, with Medvedchuk having lost his Ukrainian citizenship and currently residing in Russia, he cannot head any political organization in Ukraine.
Different Aims of Medvedchuk and Putin with Respect to "The Other Ukraine"
If the future is so gloomy, why did Medvedchuk agree to the prisoner exchange that took him to Russia? No doubt he had his own interests at heart. Medvedchuk earned his wealth and political position by gambling on and fueling controversies between Ukraine and Russia. Once he lost all his assets in Ukraine, he turned to squeezing money out of the Russian authoritarian regime. In return, Medvedchuk plays to Putin's interests and justifies Russia's territorial claims and ongoing escalation in the Donbas.
For Putin, this desperate attempt to reincarnate his protégé is mostly directed at the Russian domestic audience. It's meant to buttress the view promulgated by the Kremlin that it is in charge of Ukraine (or at least some part of it) and can appoint a puppet administration to run it. It signals that Russia might be preparing to stage "peaceful negotiations" with apparent representatives of Ukraine—if not with President Zelensky, then with a sham government in exile that Putin himself has a hand in creating.
But it is highly doubtful that after funneling Russian money into his own pockets and failing to implement the "Russian World" project and create "The Other Russia" in Ukraine, this toxic man would be capable of creating "The Other Ukraine" in Russia.
The opinions expressed in this article are those solely of the author and do not reflect the views of the Kennan Institute.
See our newest content first.
Subscribe to receive the latest analysis from the Focus Ukraine blog.
About the Author
---
Kennan Institute
The Kennan Institute is the premier U.S. center for advanced research on Russia and Eurasia and the oldest and largest regional program at the Woodrow Wilson International Center for Scholars. The Kennan Institute is committed to improving American understanding of Russia, Ukraine, Central Asia, the Caucasus, and the surrounding region though research and exchange. Read more