Be Bold. Free the Leopards.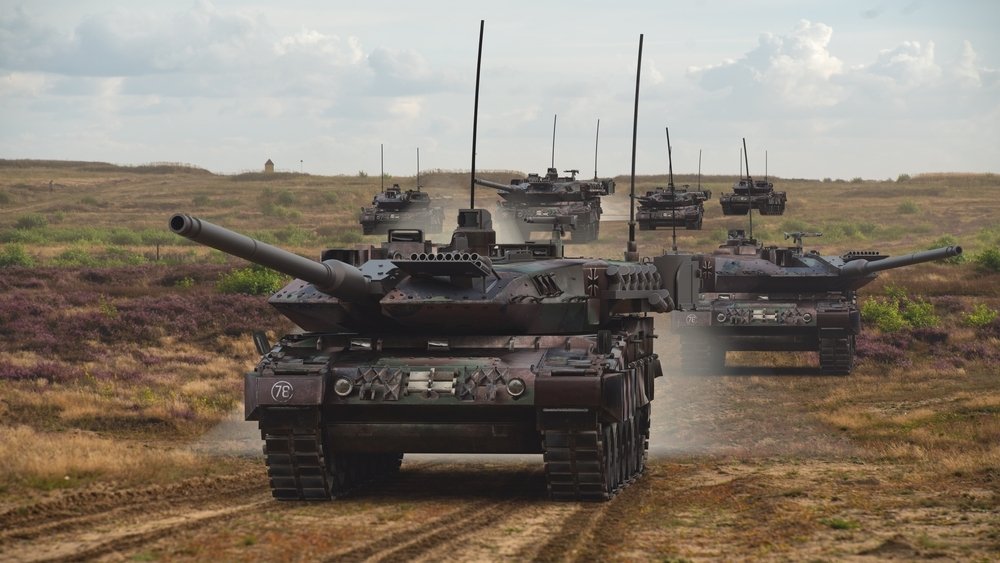 During his 2021 campaign for Chancellor of Germany, Olaf Scholz took an unlikely lesson from Angela Merkel: be boring. For the first time in years, Merkel – the unbeatable conservative candidate – wasn't running. Yet against the odds, Scholz pulled his party ahead, emerging first in a tight election. How? By cheekily portraying himself as the "continuity candidate." His message: if you liked Merkel's plain-spoken calm, vote for me. In kicking the conservatives out, voters chose continuity, not change.
Change is what they got. Scholz had been Chancellor less than three months when Russia invaded Ukraine. His response was uncharacteristically bold: a swift reversal of long-standing German policies.  Three days after the Russian invasion, Scholz promised to dramatically increase German defense spending to new highs, to support Ukraine, to halt approval of the Nordstream 2 gas pipeline between Russia and Germany. Scholz himself called it a turning point ("Zeitenwende"). The threat to Europe's security had changed; Scholz pledged Germany would change dramatically in response.
Has it? Last week's divisive debate over sending German-made Leopard tanks to Ukraine was a throwback moment. In a meeting of the Ukraine Defense Contact Group, defense ministers seeking to strengthen Ukraine's resistance were flummoxed by Germany's refusal to commit either its own Leopards or permit re-export from other European countries. Where was Scholz's boldness now?
Implementation was always going to be hard. It meant fundamental policy shifts in key ministries: Finance, Foreign Affairs, and – especially – Defense. Finance Minister Christian Lindner, a fiscal hawk from the small coalition liberal party, accepted the shift and the military spending increase. Foreign Minister Annalena Baerbock, from the Greens, was a Russia critic even before she took office; she has emerged as one of Kyiv's strongest backers. The biggest challenge to implementing Scholz's pledge has been the Ministry of Defense.
The job of Defense Minister in Germany is not sought-after. Germany's long-standing wariness of the military meant little public support for either its resources or its mission. The job of Defense Minster could be a political death sentence. In 2013, Merkel handed it to a potential rival, Ursula von der Leyen, whose stock in the party was rising. In 2019, Merkel did the same to her next rival, Annegret Kramp-Karrenbauer. Von der Leyen successfully escaped marginalization via an unexpected upgrade to Brussels; Kramp-Karrenbauer retired from politics in 2021.
When Scholz named his SPD colleague Christine Lambrecht as Defense Minister in 2021, he chose a party fixture not a military expert. Lambrecht's experience was in domestic issues: she'd previously served as Minister of Justice and Minister for Family Affairs. She'd also worked for Scholz when he was Finance Minister – and loyalty counted. She wasn't chosen to make dramatic changes; no one thought she'd need to. 
Lambrecht's experience came up woefully short when Russia invaded Ukraine. She was the face of some of the German government's most cringe-worthy messaging: pledging only non-lethal equipment at the start of the war, initially rejecting a NATO interest in the conflict, delaying her visit to Ukraine until October 2022 (Foreign Minister Annalena Baerbock went to Bucha in May and Kyiv in September). Lambrecht never mastered the reforms needed to streamline her Ministry's fiendishly complex procurement process; spending decisions and much-needed equipment acquisition dragged. The German army has long been plagued by lack of readiness; now it showed.
The final straw was Lambrecht's New Year's Eve video, posted on Instagram. What prompted her to step outside during Berlin's blasting fireworks to film a message talking about what "special experiences" the Ukraine conflict had brought, including the chance for "many encounters with great and interesting people?" Her wish for a "healthy, happy and hopefully more peaceful 2023" was drowned by noise that could only remind everyone watching of the deadly attacks Ukrainians have endured. She resigned.
It gave Scholz the opportunity to bring in a new Defense Minister with security street cred. He didn't take it. Logical choices from his own party would have been been Eva Högl, the SPD Parliamentary Commissioner for the Armed Forces, or Lars Klingbeil, SPD co-leader and long-time member of the parliamentary defense committee. Scholz chose neither. Instead, he picked a regional politician: Boris Pistorius, the Minister of Interior for the state of Lower Saxony.
Pistorius's vision for German defense policy is unknown. He served in the military briefly in 1980 (due to mandatory conscription). His work has been focused on domestic security – terrorism, organized crime, and the rise of the right.
So Pistorius will have to learn by doing. He'd been in office for only a day when the Ukraine Defense Contract Group met. Pistorius played for time; it didn't go down well. Poland has threatened to send Leopards with or without German re-export permission. Pistorius is now saying a German decision will come shortly. Divisions within the coalition government are showing as the internal debate drags on.
Many European partners support sending Leopards; Germany would have support. The debate has spread well beyond governments; it's public. Recently, a Finnish beer company, Olaf Brewing, manufactured a snazzy new "Leopard Beer." Its Twitter advertisement:  "Today we released the only Leopards we can. Your move @Olaf Scholz."
Germany's hesitation and attempts to deflect blame by asking its partners to also provide tanks undermines the bold vision for change in Scholz's Zeitenwende speech last February. At the time, Scholz saw Russia's invasion as a turning point. He saw he could not be a "continuity" Chancellor; his policy – German policy – had to change to meet new European realities.
It's time to be bold again. Free the Leopards.
About the Author
---
Global Europe Program
The Global Europe Program addresses vital issues affecting the European continent, US-European relations, and Europe's ties with the rest of the world. We investigate European approaches to critical global issues: digital transformation, climate, migration, global governance. We also examine Europe's relations with Russia and Eurasia, China and the Indo-Pacific, the Middle East and Africa. Our program activities cover a wide range of topics, from the role of NATO, the European Union and the OSCE to European energy security, trade disputes, challenges to democracy, and counter-terrorism. The Global Europe Program's staff, scholars-in-residence, and Global Fellows participate in seminars, policy study groups, and international conferences to provide analytical recommendations to policy makers and the media. Read more